Parade Information
Parade Information as of 6/27/22
Below is the current information on who is riding and who is walking in the 4th of July parade. Please contact Buck Byrne at Buck@BuckByrne.com or 614-562-7355 no later than Thursday, June 30th so Buck can update the necessary parade paperwork. Tell him which car you would prefer to ride in. If all cars are full, he will put you on a waiting list. Also let Buck know if you are walking, if you want to ride a bike (and if you have a bike or need a bike) or if you want to sit in Carolyn Casper's yard (and if you have a chair or need a chair.) Note: Carolyn will be out of town so her house will NOT be available, only her yard.
Cars, riders, bike riders, and walkers -- meet behind Ray Insurance 1580 Fishinger Rd (5 Corners)
1957 Chevy Belaire Convertible (Full 5)
Ron Rudolph driver
Bob Apel
Betsy Sebastian
Karen Rinderknech
Ed Rinderknecht
1968 442 Oldsmobile Convertible-(Full 5)
Bill Keim, driver
Rita Asmus Springer
Pam Lane Patton
Gloria Werkhaven Schriner
Sherry Chrissinger McArdle
1972 U.S. Army Jeep-(3 of 4)
Buck driver,
Dave Fontana
Phil Musser

Available
1998 Mercedes 500 convertible-(Full 4)
Judy Booker Whitaker
Mary Ellen Morgan
Ann Kirch Wegman
Lytle Johnson
1995 Mazda Miata MX-5 convertible (Full 2)
Chris Alspatch Nixon driver
Anne Greegor Jordan
Ricart Buick GMC - Jimmy Snyder Gen Mgr. possibility of 1 or 2 cars but nothing definite.
Waiting List -- Need More Vintage Cars
Emma Sue Johnson
Duane Johnson
Walkers
Dotty Garvin Tonjes
Ron Tonjes
Bob Peltier
Michelle Peltier
Jackie Dailey Sexton
Cissy Condit Binkley
Tom Judy
Bicycles (4 bikes by Mitch)
Watching the Parade with Classmates in Carolyn's Yard with Classmates
(2545 Northwest Blvd.) Yard Only/House not available
(Need 6 Chairs)
Dan and Jane Armel
Tom and Lyn Mattingly
Emma Sue Johnson
Duane Johnson
Dick Van Meter
Betsy Sebastian
Nancy Byrne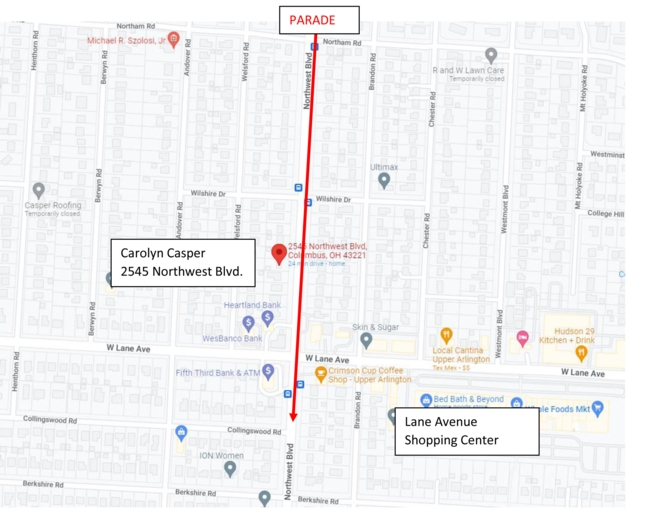 Parade Information -- FYI:
No float this year
If you have access to a vintage automobile (around 30 years old or older) to drive in the parade, let Buck know
People riding and walking in the parade are encouraged to wear a T-shirts from our past reunions plus carry and wave signs, American flags, and banners and decorate their vehicle.
Chairs need to be placed in Carolyn's yard very early in the morning to get a place or days before.