Save the Date
Our 55th Class Reunion will be held July 3, 2017 at the Amelita Mirolo Barn (Sunny 95 Barn) in the evening. If you are interested in helping plan the reunion, please contact Phil Whitaker or Joy Daniels Schmitter through the website.
Welcome, Classmates
Welcome to our Upper Arlington High Class Of 1962 website. We are setting the stage for our 55th reunion in 2017.
Stop back to check out how the site is updated, update your profile with photos and tales -- and any changes of address or phone numbers, and look for your Classmates updates.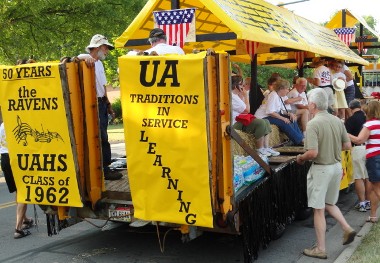 Note that we have rearranged the tabs on the website and some tabs, like the Fabulous 50th Reunion tabs have sub-tabs. Tabs are along the top and the left side of the page. Here is a brief description of each tab.
Home Page—

The page you are currently reading

Classmate Profiles—Each classmate has a personal page to tell us about what they have been doing the last 50+ years (we have had fascinating lives) and what they are doing now. Classmates are encouraged to upload current pictures of ourselves. Also be sure to update your mobile phone number -- you never know when another storm will make it necessary to call you with a change of plans.

Bonus—You can send e-mails to classmates through the website by going to their Profile Page.
55 Year Reunion—A tab that before you know it will contain news of our upcoming 55th reunion.

Past Reunions, Links, Music Memorabilia, Early Photos, and News!—These links are fun, informative, and guaranteed to make you smile and bring back memories. Be sure to check out the News! to learn about the award our class won.

Fabulous 50th Reunion — This tab has lots of subtabs (hover cursor over the right arrow) that include tons of photos and memorabilia from our 50th reunion including the Ladies Luncheon, Banquet photos, our award-winning parade float, and more. All five days of exciting events beginning with a Welcome Picnic on Sunday July 1 through a Farewell Brunch on July 5 are covered. It was our best reunion ever.

Current Events -- News of what is currently happening with current class events.

Links -- Links to other websites of interest to our classmates

Music memorabilia -- Our musicals were the best!

Early Photos -- Who are those cute little kids in first grade, at cooking classes, and on the gridiron?

Past Reunions -- If you don't think we have aged at all, look back through photos of past reunions as we gracefully (?) changed from young adults to middle age

UA Photos -- What does UA look like now?

Missing Classmates—Currently, fewer than one dozen classmates are yet to be located, thanks to the tireless work of Joy Daniels Schmitter and Lisa (Mrs. Dave) Schubert. Please check out this tab and help us find our missing classmates. We want everyone in the class to have the opportunity to stay in touch.
Contact Us—If you have any problems with the website or questions on how to set up your profile page, use this link to send a message to our webmasters, Mike Chern and Dotty Garvin Tonjes, who will get back with you.
In Memory—Sadly, a large number of classmates are no longer with us. This page lists those classmates and gives the details about them. If you have more information about a deceased classmate, use the Contact Us tab to send us the information.
Phil Whitaker, 55 Year Reunion Chairman
---
W

hat N

ow?
Edit your class profile and make sure your contact information is current

Upload current and past photos

Use the website to keep in touch with old friends

Encourage your friends to set up a profile on the website

Help us find missing classmates
---
Visitors
If you are interested in creating a website for your class reunion, click on the following link
http://www.classcreator.com/index.cfm?M=M4107679
and use Promo Code M4107679.